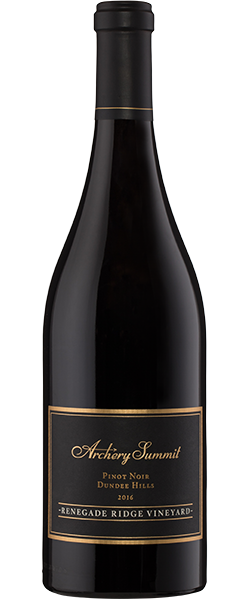 2019 Renegade Ridge Vineyard Pinot Noir
Wine Profile
Tasting Notes
Coaxing out Renegade Ridge's oneof-a-kind voice requires patience and a closeness with the site—one earned from more than a quarter-century of farming its rows. The 2018 offers fresh floral fragrances of tea leaves, potpourri, and bergamot. A spotlight poised on the horizon, the wine projects finer, focused flavors of blood orange and red currants. Not one to leave the palate, it touts tremendous length and the tannic backbone necessary for extensive cellaring.
Vineyards
Unruly in the best sense of the word, Renegade Ridge answers only to its own unique ripening schedule. The relatively slow growing conditions are owed to a cooler microclimate that overlooks the scenic Cascades. The vineyard's tendency to produce exotic, citrusy flavors despite being a stone's throw from Archer's Edge speaks to the enigmatic nature of Pinot Noir. Typically the last fruit to enter the cellar, it's always worth the wait, with structure that's immensely intricate.
Winemaking
Fruit for the 2018 Renegade Ridge Estate was hand picked between September 15th and 25th. The fruit was hand sorted and soaked cold for six to ten days, after which native yeast fermentation was allowed to proceed under temperature-controlled conditions in wooden, concrete, and stainless steel open top fermentors with 32 percent whole cluster contribution. During primary fermentation, tanks were punched down up to two times per day. After 30 percent inoculated fermentation, the wine was sent via gravity to 30 percent new French oak barrels and aged for 10 months prior to bottling.