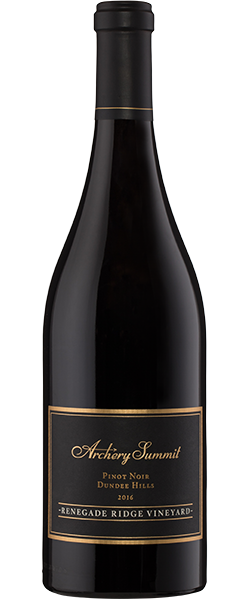 2017 Renegade Ridge Vineyard Pinot Noir
Wine Profile
Tasting Notes
The 2017 offers a highly focused beam of lemon zest and blood orange alongside the more expected strawberry and cherry notes. While refined, this wine is also mysterious and chameleonlike in the glass. The mouthfeel is all-encompassing without being overwhelming. As is typical of the vintage, the 2017 is rich and ripe, with a gracefulness brought on by longer hangtime and acid retention in the vineyard.
Vineyards
Renegade Ridge is a twelve-acre vineyard contiguous to our Summit Vineyard in the Dundee Hills. Soils are basaltic Jory and the vines are planted between 315 and 480 feet in elevation. This vineyard presents our only predominately east facing slope. Here, Dijon clones are matched to select rootstocks and exhibit pronounced aromas, bright flavors, and elegant texture.
Winemaking
Fruit for the 2017 Renegade Ridge Estate was hand picked on October 2nd. The fruit was hand sorted and fermented in stainless steel open top fermentors. During primary fermentation, tanks were pumped over and poured over, and near the end of fermentation, tanks were punched down up to two times per day. After non-inoculated fermentation, the wine was sent via gravity to 40% new French oak barrels and aged for 10 months prior to bottling.