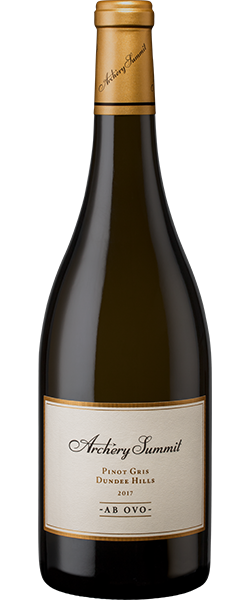 2017 Ab Ovo Pinot Gris
Wine Profile
Tasting Notes
The 2017 Ab Ovo is a combination of complex floral and fruit aromas that play delicately together with balanced acidity and minerality to form a Pinot Gris that is seamless from start to finish. Notes of orange blossom and acacia lead into hints of white peach, citrus zest and melon with hints of wet stone and toast. On the palate fruit continues to layer into minerality that gives length and texture followed by juicy acidity through to the finish.
Vineyards
The fruit for our Ab Ovo Pinot Gris comes from one small 1.26 acre block at our Red Hills Estate vineyard in the Dundee Hills planted to an Alsatian clone of Pinot Gris (#152). We also harvested a small amount of fruit from two additional blocks of young vines at Red Hills Estate Vineyard.
Winemaking
Following harvest, all grapes were sorted, gently crushed then pressed. Juice went to tank where it settled for less than 24 hours prior to being transferred to concrete eggs, stainless steel barrels and Acacia barrels for fermentation and aging. The wine remained in these vessels for seven months prior to finishing and bottling.